Four days of cataclysmic rain have lashed the central Greek region of Thessaly, triggering landslides, road and bridge collapses and severing water supplies.
In what was described as a "biblical catastrophe", storms also hit other parts of Greece, Bulgaria and Turkey.
Rescue services announced on Thursday that they had found a shepherd washed away by the flood waters, and later discovered the bodies of two elderly women in a village near Karditsa in the Thessaly region, bringing the death toll in Greece for Storm Daniel to six. Across the three countries, the storms have killed at least 18 people.
Greek authorities have sent push alerts to people in Thessaly, 185 miles (300km) north of Athens, forbidding travel until the water subsided. At least 64 people were stranded in several villages near Karditsa, the civil protection and climate crisis minister, Vassilis Kikilias, said, and the flooding also affected the port city of Volos after more than a year of rain fell in 24 hours at the start of the week.
Emergency services were using divers, lifeboats and at least one Super Puma helicopter to reach stranded people.
Andreas Diakodimitris, 49, owner of a small-plates restaurant in Volos, said he has never seen anything like the storm, which has followed wildfires that stopped just short of the city last month. Farther north in Evros, the EU's largest ever wildfire began to abate only this week.
The storage space where Diakodimitris's restaurant keeps its produce, as well as goods for other retailers, is severely flooded, with water levels beginning to climb beyond the basement to the ground floor. "The cellar is completely destroyed," Diakodimitris said, giving an estimate of more than €100,000 worth of damage. "We're lucky no one drowned."
Power has been restored to most areas of Volos since Tuesday, though some parts remain cut off. Τhe main problem is water. "Running water has been cut off since Tuesday and supermarkets are running out of bottled water. It was meant to be reconnected today but now that the rain has started again today, it's looking like next week," Diakodimitris said.

He said that although cyclone Ianos, a medicane that hit central Greece in 2020, wreaked severe damage, he had never seen torrential rainfall like this. "There were some [human-made] issues – riverbeds blocked and not cleared, some local works haven't been done in years. But even then, the rain has been too excessive to handle. Houses and businesses are flooded and destroyed. And this comes after we've only been open for business for [a couple] of years after lockdown. I don't know what else we'll have to do to survive," he said.

The summer has been unbearable for the region: extreme temperatures, wildfires and now record flooding. "Just as we said that is over, we'll put it behind us, now this has happened," Diakodimitris said. "We had 10 days of breathing in smoke, then the explosion, the unbearable heat … It's a given that this will keep happening, as long as people don't respect the environment."
The mayor of Volos described the situation as a "biblical catastrophe", saying the wells and pumping stations that supplied the city with most of its water had been destroyed, while stretches of important roads remained impassable. Bottled water supplies were being distributed by the local authority while running water would return from limited sources on a rationed basis, he said.
Bianca Stangaciu, a nurse in Volos, who was on call as the emergency unfolded, was particularly concerned about the region's elderly people. "We may have an influx of older patients who have been without running water, power and food for days," Stangaciu, 35, said.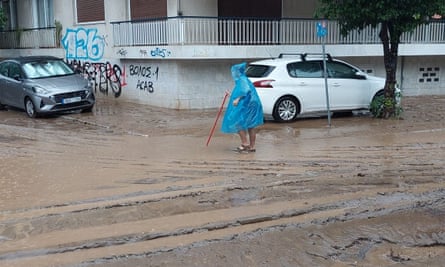 Some residents of a local nursing home are being housed in the hospital after a wing collapsed because of the storm. The basement of Volos general hospital flooded on Tuesday, with firefighters deployed to pump out water.
Stangaciu was able to obtain some water bottles for her family from a neighbour after supplies in supermarkets were drained on Wednesday, adding that bread and milk were also hard to come by. "All the neighbourhood has been out with buckets and basins. I'm washing the dishes with rainwater," she said. "It's a very difficult situation.
"People in their 70s are saying they've never seen anything like this. It's been such a huge volume, at such speed, that the ground cannot absorb it. We don't yet know exactly how bad the situation is."
Stangaciu said she felt a great deal of anxiety about the climate. "The heatwaves are getting longer each year and now this. The whole situation is changing – the years to come will be challenging."
Yiannis Pagonaris, 51, the owner of a cafe in the city, said Volos was being hit by a "third wave" of rain. He was among those who collected bottled water from the local authority this week after soft drinks were bought up in local shops. "The situation is similar to wartime," he said.
He said no one could have prepared for the environmental catastrophe that has struck the area. "Greece isn't prepared for circumstances like this – but it isn't humanly possible to be. Even if it happened to countries like New Zealand or Canada, they would be in a similar situation."
"It will take a long time for the area to bounce back," he said. "This summer, we've been through every possible thing."
Source : The Guardian