Kosovan authorities say they have recovered a large cache of arms after ethnic Serb gunmen stormed a village in the restive north at the weekend, battling police and barricading themselves into a monastery.
"We can easily say that the equipment was destined for several hundred other assailants," the interior minister, Xhelal Sveçla, said on Monday.
The site of the firefight was sealed as investigators sifted through evidence after a late-night gun battle that ended a standoff when authorities stormed the monastery in the village of Banjska.
Sveçla said authorities had already recovered "an exceptionally large number of heavy weapons, anti-infantry weapons, explosives, uniforms, logistics, food reserves and equipment for barricades".
Armed police units are continuing to search vehicles and houses around Banjska after the violence, which left a police officer and three of the attackers dead. The body of a fourth attacker was found on Monday morning, police said.
Photographs released by police showed a haul of large-calibre weapons, shells and what appeared to be a small armoured vehicle.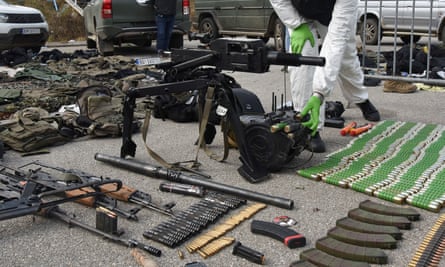 International leaders were meeting in Brussels on Monday to consider next steps to try to calm tensions.
The US deputy assistant secretary of state for European affairs, Gabriel Escobar, was in Brussels to meet officials from France, Italy and the EU envoy for the Balkans, Miroslav Lajčák.
The US secretary of state, Antony Blinken, condemned the attack and called on both sides to return to talks. He said: "We call on the governments of Kosovo and Serbia to avoid actions which could further inflame tensions and to immediately return to the EU-facilitated dialogue."
The attack has resulted in a near-breakdown of relations between Serbia and Kosovo, which declared a day of mourning on Monday and sent a briefing note to EU and international leaders describing the attack as reminiscent "of the hybrid techniques used in the early stages of Russian occupation in Crimea" in 2014.
"Uniforms and flak jackets resemble those that are routinely normally used in combat operations … The aim of this attack may have been to instigate a tougher action from Kosovo in order to provoke wider inter-ethnic grievances," the note said.
The incident marked one of the gravest escalations in Kosovo for years, after months of mounting tensions and stalling talks between the government in Pristina and Serbia.
Ethnic Albanians make up a majority of Kosovo's 1.8 million people. But 50,000 Serbs in the north of the former Serbian province do not accept Kosovo's 2008 declaration of independence and see Belgrade as their capital, more than two decades after a Kosovo Albanian guerrilla uprising against Serbian rule.
Kosovo's prime minister, Albin Kurti, has blamed Serbia for financing and sending armed men to Kosovo.
The Serbian president, Aleksandar Vučić, has denied the allegations, and claimed on Sunday that the gunmen were reacting to "terror".
"You can kill us all. Serbia will never recognise the independence of Kosovo, that monster creation that you made by bombing Serbia," Vučić said, referring to the Nato intervention in 1999 that led to Kosovo separating from Serbia.
He condemned the killing of the police officer, but said the clash was the result of "brutal" pressure on Kosovan Serbs who no longer wanted to "endure Kurti's terror".
Efforts to normalise relations through a dialogue in Brussels have reached a deadlock.
In an interview with the Guardian last week, Kurti said that continuing instability had made the region "a playground for the geopolitical games of the Russian Federation and People's Republic of China".
He described the latest abortive meeting on 14 September between him and Vučić as a debacle and said the EU's Lajčák had "lost neutrality".
Source : The Guardian