Kosovo will not re-enter talks to normalise relations with Serbia unless sanctions are imposed on Belgrade, the country's president has said, as she accused the Serbian government of pursuing a strategy "straight from the book of [Slobodan] Milošević."
Speaking as she arrived at the summit of the European Political Community on Thursday, Vjosa Osmani ruled out more talks taking place until the US and EU put sanctions in place after a deadly gun battle last month in a northern Kosovo village.
Pristina claims Belgrade financed and supported the ambush by well-armed Serb paramilitaries on a Kosovan police patrol, in which an officer was killed. Three Serb gunmen died in the ensuing battle, near the village of Banjska.
"I believe that the very first step that needs to be undertaken is sanctions against Serbia," Osmani told reporters on her way into the summit. "If there are no sanctions against Serbia, they will abuse the normalisation dialogue as a process."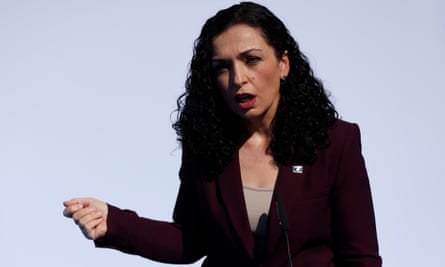 While Serbia's president, Aleksandar Vučić, was also attending the EPC conference in Granada, Spain, Osmani said there was "no place" for such a country at a summit designed to promote democratic values.
"This [the EPC] is a table for like-minded countries who believe in peace, who believe in stability, who defend European values. Serbia, unfortunately, is not one of them," she said.
Comparing Belgrade's tactics to those of Milošević, the former Serbian leader indicted for war crimes for orchestrating the Balkan wars of the 1990s, she added: "It's straight from the book of Milošević in the '90s, is straight from the book of Putin in 2014. They say: 'We want peace'. They say: 'We had nothing to do with the attacks'.
"But actually, their hands are all over it. What happened on 24 September in Kosovo was carried out by the orders of the leadership of Serbia."
Serbia has denied involvement in the attack and earlier this week arrested a Serbian politician who admitted he had taken part in the deadly skirmish.
But Pristina claims to have video and physical evidence of Belgrade's involvement in the attack and is concerned that if Serbia is not punished, it will feel it can act with impunity.
It points to a lack of action in May when more than 30 Nato troops in the Kfor peacekeeping mission were wounded in clashes with Serb protesters.
Osmani said if EU-brokered mediation talks were resumed without sanctions it would be "the aggressor that is normalised". She reiterated Kosovo's demand that Serbia demilitarise 48 military and police bases on the border.
On Saturday, Serbia pulled some of its troops back from the border after the US warned it could face punitive measures for what the White House called an "unprecedented" buildup of troops and armour.
Osmani called for the EPC summit hosts, Spain – the biggest EU state to withhold recognition of Kosovo's independence – to join other countries in backing measures to punish Serbia.
"I do hope Spain will join other, like-minded countries to adopt measures towards Serbia for this horrendous act that it has committed against peace, stability and security," she said. "There is no reason to meet [with Serbia] before sanctions are adopted."
Source : The Guardian